Tera Eastern Training Weekend Boosts BSC Cadets Race Skills
Published 16:31 on 5 Nov 2020
The weekend of 10 and 11 October saw 7 BSC cadets joined 9 others from the Eastern Region in challenging conditions in the first of three Winter Training Weekends scheduled at BSC.

"Tereastas" is the Eastern Region of the RS Tera Class Association, run by BSC's own Emma McTiernan and Stephen Johnson. The Tera is an RYA Youth Training Boat, which has become popular for enabling a wide age range to learn and compete with a selection of 3 sail/rig combinations.
Retaining and developing our next generation of Brightlingsea sailors has never been so challenging with disruption to Cadet nights, Transition Squad and the cancellation of the increasingly popular Youth Regatta in the summer.
The opportunity to host the event has enabled several members to have their first experience of National level coaching and competitors, with top Tera, Oppie and Feva sailors also participating. As you can imagine this and future events are over-subscribed.
Head Coach, Jonathon Lewis, is a national squad coach in Tera & Fevas and is very popular with the children. He was joined in coach responsibilities by BSC member Matt Taylor, an ex-Tera sailor, British Keelboat Academy Squad member and RYA Young Sailor of the year nominee. Harry McTiernan seemed keen to learn as much about coaching as possible, to add to his summer experience as an Assistant Instructor at BSC's sailing school.
The windy conditions on Saturday morning highlighted a number of "rusty" sailors, leading to a focus on sailing skills, boat speed and shaking off bad habits. The afternoon session showed determination and a return to form by all sailors, with only a few treating their mast heads to the joys of Brightlingsea mud at low water! The recent change in weather helped drive up the sales of hot chocolates from the Beachbox Café after the afternoon session.
Sunday brought brighter weather, and a welcome lack of rain. Matt took most of the fleet out of the creek to start practise races, that enabled him to work around the sailors reinforcing the skills from the previous day. This allowed a rare opportunity for 2 of the least experienced sailors to have dedicated coaching from Jon. His experience in coaching children shone through with clearly motivated sailors advancing their skills so that they could rejoin the main group in the afternoon.
Sunday afternoon saw the group as one again, setting up on a windward-leeward race course just upriver of Bateman's Tower, to keep clear of the club's racing. 3-2-1 starts allowed the Sports Fleet to start 1 minute ahead of the Pro fleet, keeping all sailors tightly packed. The wind challenged one Tera Pro's rig before the start line was set, but as an exemplar of the resilience and determination that this fleet encourages, Lucy returned to the club, replaced the broken mast and only missed 2 of the short races!
Brightlingsea's Lawson Nunn (2019 Regatta Fleet National Champion) and William Johnson worked up the fleet throughout the races in Sports sails, pushing the Pro Rigs and top visiting sailors. Enzo Goodsell, Tom Phillips and Willow Cross challenged themselves in the increasingly windy and shifty conditions, improving their experience as Race Helms and clearly improving. Morgan Cross, in her first ever event, surprised a few Sport sailors with her speed even though she only had a mini rig.
Watching them all progress and challenge themselves, whether that be hitting the start line on time, tuning their sails, reversing the flow down wind, or just staying upright is a privilege. It reminds me how sailing builds strong, resilient characters. Just staying out on the water for 5+ hours a day, working as a team to launch and recover themselves is a 'win' for many. The most encouraging comment I heard was, "I just really enjoyed pushing myself and seeing if I could keep up with the others", because at that age having a fleet of your peers is such an obvious motivator.
It is these opportunities to advance racing skills, that will hopefully result in a stronger cadet membership. A membership that is able to flow through the learning to sail and transition squad steps, into club racing and long term participation.
Our thanks to Stephen Cross for this terrific report from October's Eastern Region Tera Training weekend (and apologies for the delay in posting it)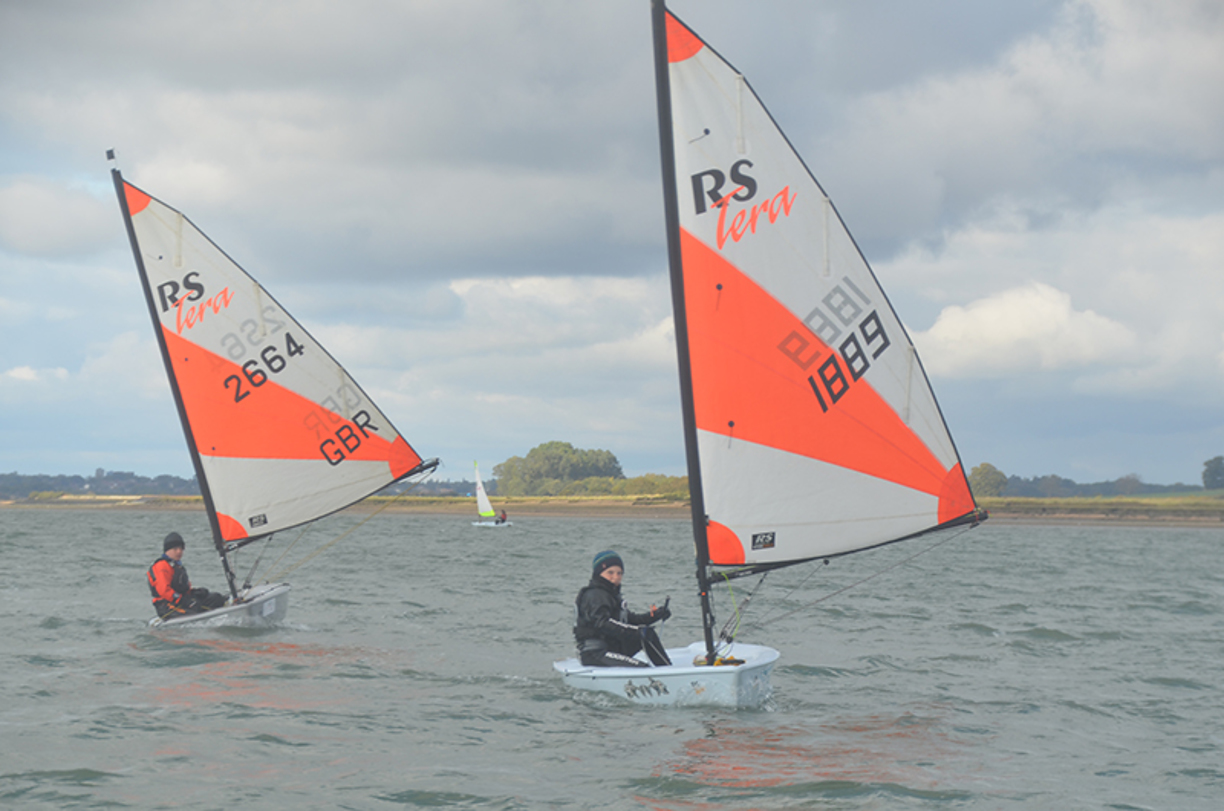 Last updated 14:28 on 3 June 2022